Mad Love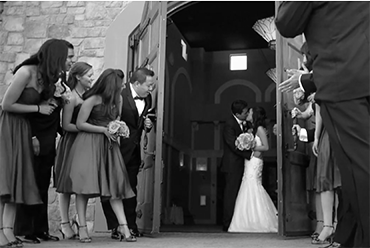 Grace & Andrew
We bought a video package for our wedding that included a short film (7 minutes) and long film with all of the important footage (100 minutes) and we are very, very pleased with the results. Met with several other videographers but loved Bob and his approach - he explained some of the intricacies to building a video and some of the unique things that they do (particularly with the audio) that set them apart. We loved him and his approach and they were great to work with on the day of and listened to our requests for revisions so we could get a final product we're happy with. Some things I liked:
1. Creative suggestions for poses and shots, for instance when the bridesmaids are clinking glasses.
2. You can't tell from the video, but the audio track has been cut multiple times to make it flow better.
3. Great shots of some of the small details of our wedding - especially the cake.
4. Fun moments prompted by the team - particularly the Pinkberry shot. Set especially well against the audio track.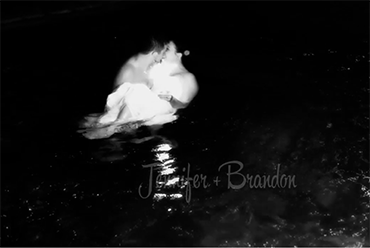 Jennifer & Brandon
I decided to use Video Madness for my wedding after careful consideration. As a wedding photographer I am really particular about the images I want. Video Madness exceeded my expectations. It wasn't just the beautiful composition, or the crystal clear sound, or very cool slider shots and steadicam movement - though I really loved the eye candy. Nor was it just the effortless interface, the ease of dealing with Bob and his crew, or the many compliments we got about the professional demeanor, dress, and attitude of the cinematographers. The finished narrative film was beyond our hopes. My wife and I could not believe the way they weaved the audio of our vows and toasts into a cinematic masterpiece. Stunning. And compared to many we interviewed, the price was fair.
If you want something special this is the company. Thanks again to Bob and the crew. You guys rock!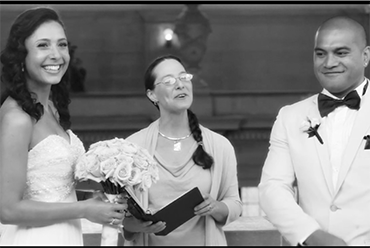 Vanessa & Warren
We started looking for a Videographer a few months before our wedding, when we decided that we wanted to capture the day not only through photos but also through video. Making the journey all the way from New Zealand to San Francisco for our wedding day had one downside and that was that we couldn't meet with "all" our vendors before the day.....the internet becoming our forum for picking the right vendor for each important role. Picking our Videographer was based on the price of the right package for us and the portfolio of work on the Videographers website. Bob's portfolio on his Video Madness website was what drew us to contact him, and his prices, professionalism and humor were what sealed the deal. This carried on through to our wedding day where we met Bob and his assistant who were even flexible enough to stay on for a few more hours (at an hourly rate of course) than we had contracted them for, to capture our speeches and first dance (our schedule was running late) :P Would definitely book Bob and his team again!! :)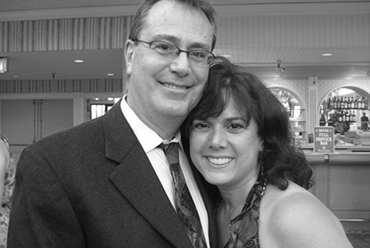 Susan & Paul
I called Bob at Video Madness after seeing some of his community service work at a charitable event I attended. We had my daughter's Bat Mitzvah that required two days of taping. Video Madness was on time, organized and pleasant to work with. They even made my teenager smile and laugh! I appreciated the fact that my special requests were taken in stride--I asked that some footage from an inferior source be edited into the finished product and wow, did they ever do a great job. The transitions were very smooth, and very creative. We also had this company do a vignette for us to show at the party. They were great in helping us request the proper equipment from the event facility, and made sure that everything ran smoothly at the party. Overall, I think that they did the most important thing very well; they captured the joy of our event. As an aside, it does take a bit of time to get these videos back. This was not an issue to us at all, but if you have some kind of deadline in mind you should let them know in advance. They seem very willing to work with people and meet their needs.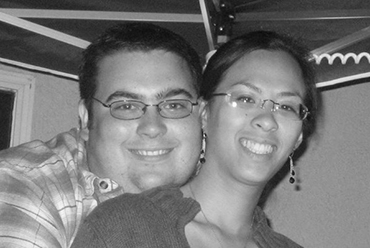 Anne & Jeremy
We found them at a bridal show. Loved the demo so we checked out the demo at their office to experience the full HD effect on Blu-Ray. It was easy to book them. If I had questions, I emailed and I would get my replies, which were straight to the point. The videographers present for my wedding did such a great job of staying out of the way that many of our guests didn't realize that we had them there! The wait for the final product is about 4-5 months, but they're true to their word and the product is AMAZING. We got the photo/video package with 2 videographers for the ceremony. It was expensive, but we both decided that this was our "splurge" for the wedding since it's the first family heirloom. EVERYONE who has seen our video absolutely loves it. I suggest you book as soon as early as possible so you can book two videographers since they only have so many videographers.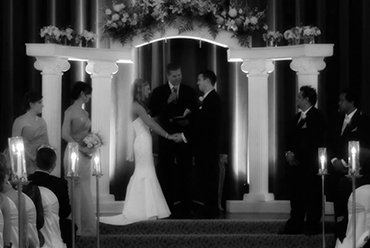 Janie & Michael
My husband and I both agreed that Photo and Video was very important to us and spent a lot of time researching photographers and videographers. We found Video Madness at a bridal show and after we watched the sample video just had to make an appointment. As soon as we met with Bob we felt very comfortable and confident in the quality that we would be receiving. He spent a lot of time with us showing us videos and photo books. We chose a package deal for photo and video and compared to all the other research we had been doing, Video Madness was very reasonably priced and the video quality offered was much higher than anything else we had been offered.
Our wedding was in June of 2011. On the day of everyone showed up on time and captured everything that I requested. Our package included 2 videographers and 2 photographers. Everyone we worked with were very pleasant and time conscience since we had a lot of photos we needed to get in before the ceremony and reception.
Shortly after the wedding we received our short film and absolutely loved it! Bob captured the most amazing moments and made it flow perfectly with the music. We just finalized our final video and it is amazing. Bob was very accommodating to all the changes we wanted through the process and my husband and I, as well as my parents are both ecstatic with the final result! We can't wait to show the video to rest of our family and friends! Thanks for everything Video Madness!!